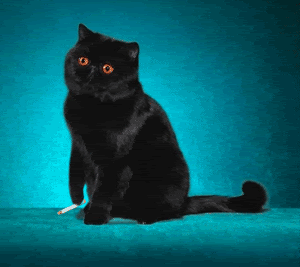 "Don't let Holly know it."
This is the story about Warhol's cat "Sam" at
Wikipedia
:
Books and print
Beginning in the early 1950s, Warhol produced several unbound portfolios of his work.
The first of several bound self-published books by Warhol was 25 Cats Name Sam and One Blue Pussy, printed in 1954 by Seymour Berlin on Arches brand watermarked paper using his blotted line technique for the lithographs. The original edition was limited to 190 numbered, hand colored copies, using Dr. Martin's ink washes. Most of these were given by Warhol as gifts to clients and friends. Copy #4, inscribed "Jerry" on the front cover and given to Geraldine Stutz, was used for a facsimile printing in 1987 and the original was auctioned in May 2006 for US $35,000 by Doyle New York.[66]
Other self-published books by Warhol include:
A Gold Book

Wild Raspberries

Holy Cats